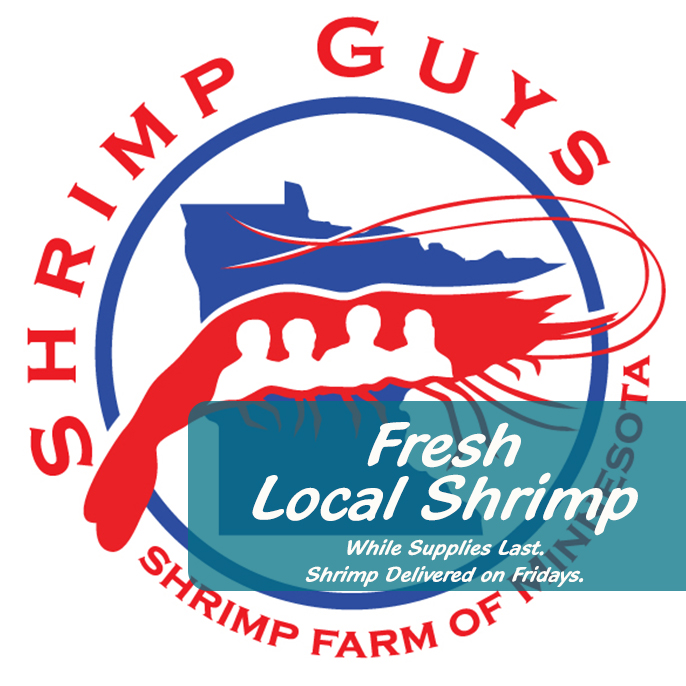 Release Date: September 24, 2018
In this episode Rich Bissonette, our Meat & Cheese Buyer, introduces Vicki to John & Danny who are the Shrimp Guys from Morristown, MN.
Hello and welcome to Hotdish the Just Food Co-op Community Podcast.
Our goal is to facilitate an open line of communication about your food, where that food comes from, and how it is being used to nourish our town and its members.  
///////
From the Shrimp Guys Website:
We are pioneering a unique underwater agribusiness enterprise, which produces superior, fresh, Pacific White Shrimp in a year-round, indoor, self-sustaining, re-circulating, eco-friendly environment.
///////
Shrimp Guys Information:
Website: http://www.shrimpguysmn.com/
Facebook: www.facebook.com/shrimpguys/
Instagram:https://www.instagram.com/shrimpguys/?hl=en
For information about setting up a tour, please email the Shrimp Guys: shrimpguysllc@gmail.com
///////
For More Information about Just Food Co-op check out our website: justfood.coop
Follow us on Facebook, Twitter, Instagram, and Pinterest

Our theme song is called

Hotdish Wish

by Joe Lawrence of Delano, MN, and is performed by Potluck & The Hot Dishes. More information about the band in the show notes.

Our transition music called Cantankerous Kitten and was composed and performed by Gordon Hayes, for more information about Gordon, check the show notes.

Sign up for our weekly email newsletter by contacting info@justfood.coop.

If you have any questions, comments, or suggestions for the podcast please email them to social@justfood.coop.
Thank you for listening to this  Episode of HotDish, The Just Food Co-op Podcast.
We Believe that Just Food is Healthy Food That is Local, Sustainably Produced, and Strengthens Communities.
///////
Questions:
info@justfood.coop
507-650-0106
Social: Stay up-to date on all Just Food Co-op Events
Twitter: @JustFoodCoop
Instagram: justfoodcoop
Facebook: Just Food Co-op
///////
About the Theme Music: Hot Dish Wish by Joe Lawrence
Performed By: Potluck and The Hot Dishes
https://www.facebook.com/Potluck-and-the-Hot-Dishes-100106373384405/
http://potluckandthehotdishes.com/Home.html
///////
About the Transition Music: The Music is by a Just Food Co-op Employee - Gordon Hayes
Cantankerous Kitten by Gordon Hayes
Keyboard - Peter Brown
Trombone - Aaron Buchanon
Guitar - Wes Carlson
Drums - Sten Duginski
Saxophone: - Gordon Hayes
Bass - Matt Tessier
Combo 1 Recording Session 4/14/2017
Mixed and Mastered by Gordon Hayes
Under the Direction of Ryan Frane
Recorded in Weber Music Hall by Music at UMD
More from Gordon: https://soundcloud.com/gordon-hayes-486457855/
///////
Northfield Community Co-op - It's lit, fam.