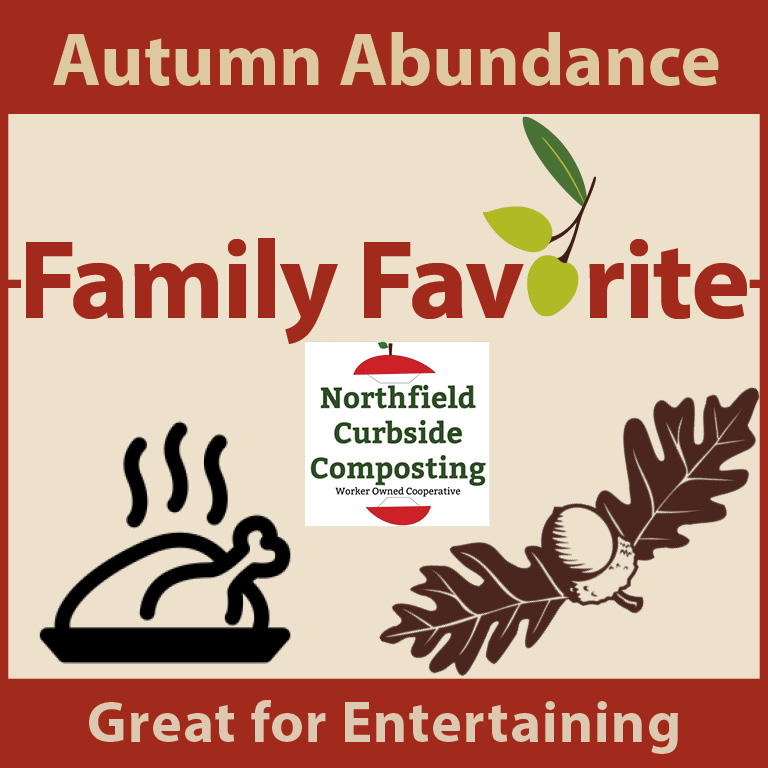 Hotdish Episode 6: Steve Gives us Tips on Creating Catering Orders, Natalie & Cliff of Northfield Curbside Composting Chat About Their Worker Cooperative, & Nancy Talks Turkey. Bonus: Learn about Holiday Entertaining Sample Day from its Creator, Nancy.
Hello and welcome to Hotdish: The Just Food Co-op podcast. I'm Vicki, your host and I am very excited to bring you the latests news from the little co-op by the river.
The purpose of this podcast is to keep the conversation going beyond the walls of our building. Just Food Co-op aims to be a warm, welcoming place this autumn - shop here to get all of your family favorites or find some new crowd pleasers.
Segment 1 -  Steve, the Deli Assistant tells us his tips for ordering catering.
Interview: A chat with Natalie & Cliff of Northfield Curbside Composting.
Segment 2 - Turkey talk with Nancy, Meat and Cheese Assistant, & aPreview of a cheese-heavy Holiday Entertaining Sample Day. 
Cooperative Principal of the Week:
Principle #6: Cooperation Among Cooperatives
Cooperatives serve their members most effectively and strengthen the cooperative movement by working together through local, national, regional and international structures.
Happenings/Next Week:
Holiday Sample Day: November 11, 2017
Holiday Entertaining Sample Day: November 18, 2017
Turkey Pick-up Day: November 20, 2017 - 4-6pm, Last day to reserve a Fresh Ferndale Turkey is November 19, 2017
Thanksgiving Day: November 23, 2017 we are closed
Black Friday: November 24, 2017 we are open regular hours 7am-9pm
For More Information about Happenings at Just Food Co-op as well as up-to-date information about your local cooperative grocer you can:
Find information on our website

www.justfood.coop

Follow us on Facebook, Twitter & Instagram

Our Bi-monthly newsletter, the ComPost is available on our website, and physical copies are available in our store.

We also have a weekly email newsletter, sign up by emailing

info@justfood.coop

.

If you have any questions or comments for the podcast please email them to

social@justfood.coop

.
Thank you for listening to this episode of Hotdish, The Just Food Co-op Podcast. Join us next time.
Outro. : Just Food Co-op nourishes a Just, Healthy and Sustainable Community.